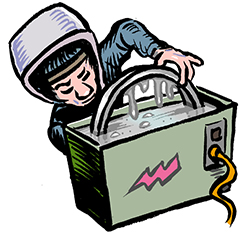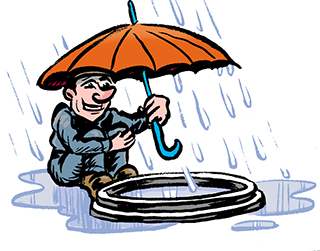 Midwest Metal Products offers two different types of protective zinc coatings.  We offer both hot dipped galvanized (ASTM A123) as well as zinc electroplating with a clear chromate conversion ( ASTM B633 type iii).  Both of these coatings offer protection from corrosion.  Hot dipped galvanizing is a very heavy coating of molten zinc which is extremely corrosion resistant and very durable.  The electroplating we offer is much thinner but works very well for keeping surface rust from developing on indoor applications and also works as a primer for painting.  The electroplated coating is also very aesthetically pleasing, shiny and smooth on the surface.
Some of our competitors stamp rings from sheet stock which has been galvanized inline.  Compared to a hot dipped coating, both g60 and g90 coatings are minimal and more importantly these stamped rings have raw edges which are not galvanized.  The O.D. edge, the collar edge and the i.d. of the punched bolt holes are all bare metal and is where rust will start to develop over time.  With Midwest's rolled rings which are then fully dipped, the product is entirely protected.
Below are some images showing the different zinc coating processes as well as a microscopic photo showing the thickness of the coating which correlates directly with how much corrosion protection the coating has.